Kazoo news: April Update
May 03, 2022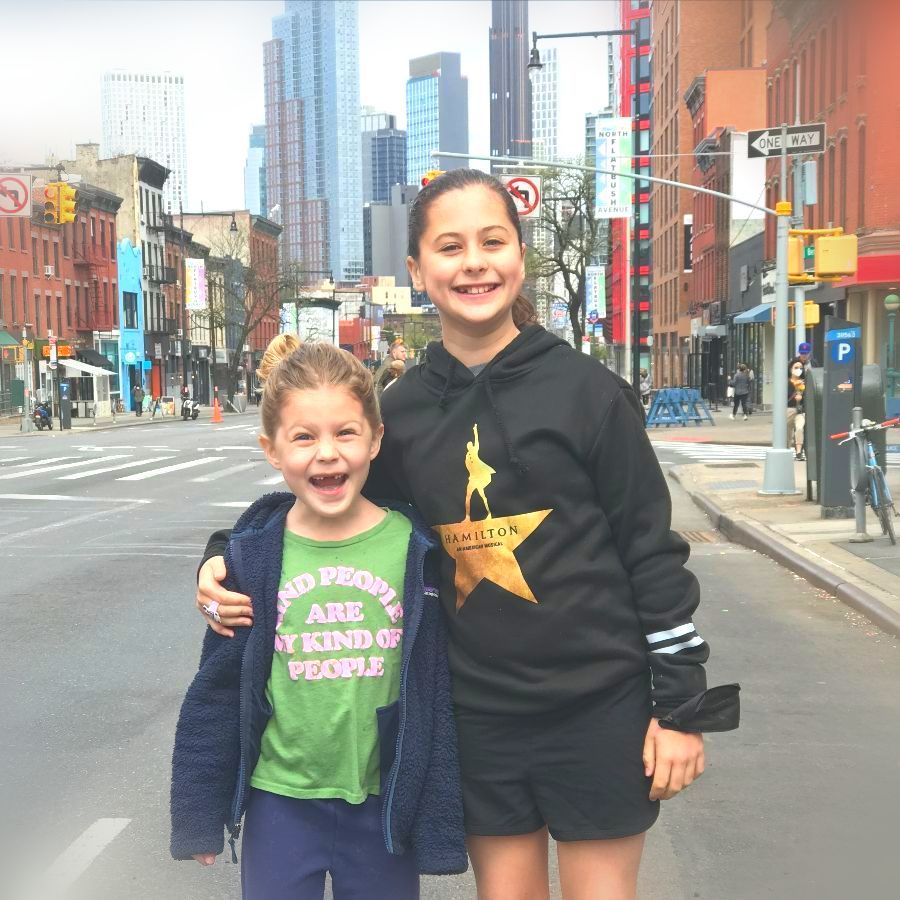 April Update: 

Taking stock: Hello friends! We are back in Brooklyn, and the girls are so happy. But, after a long spring break in the country, it's been a little jarring, frankly. The girls always love the city, but I've been trying to find my footing on the pavement again, along with some extra space in our apartment, where I am right now surrounded by stacks of magazines. I remembered that we had a turkey in the freezer. Well, I cooked that whole bird one day, which was ambitious enough for a non-holiday meal. But the next day, I even made an actual soup with what was left! It felt a little witchy stirring and muttering "Thank you, bird." But by the time it was done I felt a little more grounded, the apartment smelled like a home again, and we all had a really nice meal. 
Supply chain blues: Since we print in the USA (hello, Vermont!), we hadn't run into much trouble with delays that some overseas printers had during the pandemic, but the *gestures at everything* has finally caught up with us. So, we're shipping our next issue a week late. Our paper, postage, and ink prices have all skyrocketed. We're trying to keep our prices down, and our page count the same, but to do so we've had to increase our subscription price $5 a year, or 1.8 extra cents per page. I hope it will be OK with you. (And hey, if you know anyone with loads of cash that wants to help us keep our prices down, kindly direct them here.)
Bonkers for Butterflies: Unfortunately, it's no longer shocking when we hear about social media hysteria and anti-immigrant sentiment combining in terrible ways. It is shocking when the target of all that hatred is a 100-acre Monarch butterfly sanctuary, which was forced to close this winter under threats of violence. The good news in this insane saga is that The National Butterfly Center has reopened, and just in time for Earth Day. 

Magic Mushrooms: In our Big issue (Kazoo #21) we learned that trees talk to each other. Now, we find out that mushrooms may also be chatty! Scientists think that mushrooms can communicate with each other using up to 50 "words." What do you imagine they say? 

Rock Star: Every time I interview an astrophysicist for a story I ask them, "Please explain this to me, so a 7-year-old can understand it." They try, but I ask follow-ups like, "Ok but how long would it take to drive to the sun in a car?" All under the guise of writing about it for kids. But I too am completely mind-blown by the vastness and wonder of space! So, get this: Astronomers have discovered the farthest star yet, a super hot and bright giant that formed nearly 13 billion years ago at the dawn of the cosmos, and is 50x the mass of the sun. (I bet it would take a loooong time to drive there in a car.) *Head Explodes Emoji*
Extended sale: We ran a big Spring Sale at Amazon and they promptly sold out of many issues, and we haven't been able to restock them yet, because ... we have no idea. Some Amazon algorithm? But luckily, we just happen to have a stack of magazines right here! So, now's the time to complete your Kazoo library. Extended through May 6, get 20% off with the code "HAPPY SPRING". 
New books by friends of Kazoo: Bestselling author, chronicler of kids and cats, and frequent Kazoo contributor Lucy Knisley's new graphic novel Apple Crush is coming soon. (Full disclosure: We got an early copy and the Tiny Editor loved it), Karina Yan Glaser (who wrote our short-story in Kazoo #12) debuts A Duet for Home. And Lauren Wolk (whose short story will appear in our next issue) comes out with My Own Lightning in May. 

What we're reading: The Teeny Editor still loves picture books before bed, so we read them to her over and over again. Some recent favorites: A Mouse Called Julian, The Hideout, and A Home in the Woods. The Tiny Editor loves graphic novels and is reading Deadendia right now. She's 11, growing over kids books and too young for adults. Any recommendations for us? Send our way. 

What we're watching: We sometimes watch TV with the Tiny Editor after her little sister goes to bed. I had this idea that it would be fun to re-watch old sitcoms, but surprisingly, they do not hold up! (Friends! Wow. Too many terrible jokes to explain.) So, making our way through Schitt's Creek was pretty fun. We allowed some Ted Lasso (but had to fast-forward tons of it) and are now watching the hilarious Abbott Elementary. Highly recommend if you like to hear a sometimes anxious student giggle about school. 
Tweets of the Month: Finally all the slime-making will pay off for someone. Plus, the earth raps #$&%! (play outloud w caution, NSFW). And, remember that sticky ship from our Big issue?
(The frog news isn't new! Just new to me. Best use of Twitter!
Reader Mail: Many of you responded to my last newsletter in support of the "for girls" part of our magazine's tagline, and I'm grateful for your feedback. We're trying to make the very best magazine we can. We think deeply about all your feedback, and appreciate your support. 

Winning Dixie: We just finished reading Because of Winn Dixie to the Teeny Editor (we'd already read it to her big sis years ago) and the next day we all watched the movie for Friday Night Movie Night. We adore Kate DiCamillo, and we featured her in Kazoo #7, our Light Issue, because she truly shines a light with her stories. In this interview, Kate DiCamillo talks about writing specifically for children, and says: 
 
"I think our job is to trust our readers.
"I think our job is to see and to let ourselves be seen.
"I think our job is to love the world.'" 

As I put the finishing touches on our next issue, which comes out in June, this will be my focus: loving the world. If you come across anything particularly lovely, please send it my way. You can find me at erin@kazoomagazine.com. 

xo,
Erin
Kazoo magazine
Founder & Editor-in-Chief